Using Popsicle Sticks to Pray
May 1, 2012
This post may contain affiliate links. Additionally, remember that I am not a doctor and any health statements must be verified by your doctor. Read my full disclosure policy
here
.
The Bible tells us to pray without ceasing. 
However, I must admit . . . I don't. 
I have this long list of people I want to pray for.  I know the prayer Jesus modeled for us.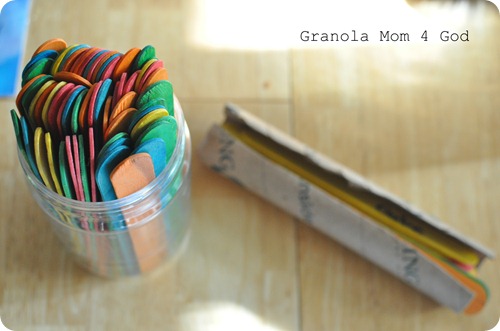 But I just don't often do it. 
I want to. 
I have a heart to. 
But I get busy. 
Things started getting embarrassing.  You see, I have a certain child who prays more than I do.  He prays for others – very specifically. 
Except when it comes to meal time.  Three times a day, his prayers sound like rote memorization.  Forced.  Only going through the motions because that is what he has seen us do. 
Seriously.  I pray before my meal because that is what Christians do.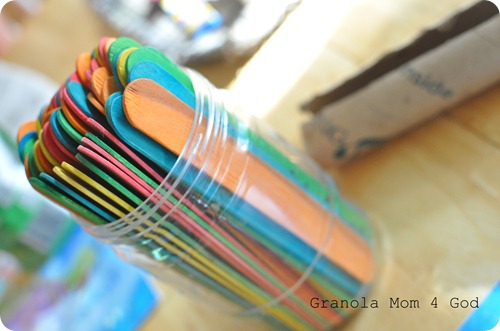 But I want to practice authenticity before my children.  To see prayer in action.  To care about people and events outside of our home. 
When you pray and it is followed by an answer to prayer – why that increases faith. 
We devised a list of people to pray for.  It overwhelmed me. 
Until we placed each prayer point on a popsicle stick . . . a tongue depressor.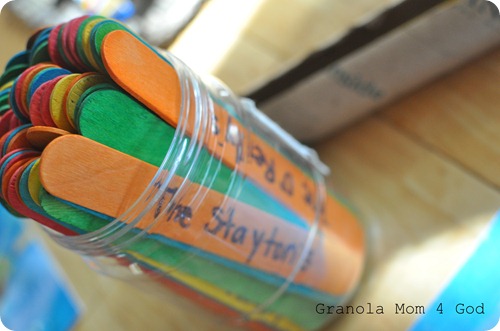 Before each meal, one blessed individual is allowed to pull out a tongue depressor from the cup.  Whoever is pulled out is then prayed for. 
Simple.  Uncomplicated. 
When you make your prayer sticks, please make one for Compassion International.  And add my IRL friend, Jolanthe, who leaves for Tanzania this week as a Compassion Blogger.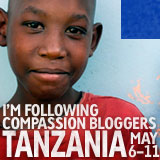 While you are at it,  don't forget to add One Verse to your prayer sticks.  The Bible needs to be translated into every language.