Vacation Reading: The Pursuit of Lucy Banning
May 18, 2012
This post may contain affiliate links. Additionally, remember that I am not a doctor and any health statements must be verified by your doctor. Read my full disclosure policy
here
.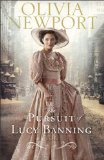 Vacation reading never stops for me.  Sometimes I almost enjoy a good book rather than a cozy mo
vie.  Unless the Engineer is involved.  Then I will take the movie.
What is Vacation Reading?
The type of book you would read to relax and disconnect.  You could almost say it is for pure enjoyment or entertainment value.  Light.  Heartwarming.
The Pursuit of Lucy Banning by Olivia Newport was among one of my most recent vacation reads.  Picture Chicago, 1893, during the World's Fair.  Lucy Banning lives in the lap of luxury and is expected to marry into another lap.  But this gentleman isn't so much of a gentleman.  As Lucy wavers in her resolve to marry, she continues to attend school secretly, help at an orphanage, and develop a friendship with a caring architect named Will, who values the same things as Lucy.
A fire, a kidnapping, and a man gone mad is what you will discover in this novel!
Thumbs up!  Pull up a lounger and get reading.  Available in paperback or on your Kindle.
Available May 2012 at your favorite bookseller from Revell, a division of Baker Publishing Group.  I was sent this book to read and review.  All thoughts are mine.