I Don't Want to be a Sloth, God
Sep 13, 2012
This post may contain affiliate links. Additionally, remember that I am not a doctor and any health statements must be verified by your doctor. Read my full disclosure policy
here
.
I've been balking at writing to you God.  Sometimes I get so ridiculously excited and passionate about something, but I fail in the task of executing my thoughts, distracted by life . . . or the blog.
We have these two great kids in India.  But I feel like our relationship is superficial and I would like for it to be more.
Why is it so much easier to write words onto a computer screen early of a morning out into cyber world – not knowing if anyone will read it, than to sit down with my IRL kids after breakfast to write to Mita and Manjunatha?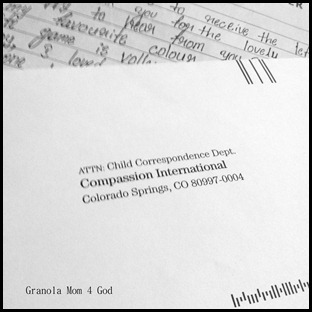 Why does the act of mailing a letter seem so laborious?  The envelope is provided.  It is even addressed.
God, change me.  I don't want to be a sloth.
One thing I do know is that You are much bigger than I.  Praise God, that You know the number of hairs on their head and catch every tear of theirs that drops.  Because if they relied on me, what would become of them?
Lord, I just need a disciplined life.
I can do some things well for a season.  But while I am doing that well, it is like I'm juggling a few other things absent mindedly and catch them in midair as they nearly fall to the ground with neglect.
Father, please bring to mind the valuable people . . . God change our family into a family that has a heart to earnestly pray – together.  Slow us down.
Last night You gave me a promise,
Behold, I send an angel before you to guard you on the way and to bring you to the place that I have prepared.  (Genesis 23: 20)

Consecrate yourselves, for tomorrow the Lord will do wonders among you. . . . that they may know that, as I was with Moses, so I will be with you. (Joshua 3: 5b, 7b)
I know what this promise means for us, Lord.  And I know we aren't worthy.  God, as we step into this promise, please please please draw us to Your Word.  May we write it on our doorframes, discuss it when we rise, while we walk, and over a shared meal.  May we be people of the Word.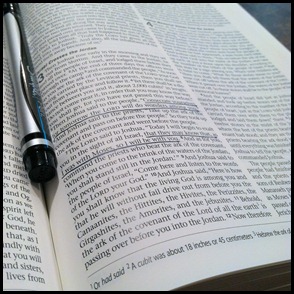 And as people of the Word, God . . . help me to love Mita and Manjunatha better.
Help me to love them well.
God, may our words, actions, and deeds reflect the amazing work You have done in our lives.  You took the scales off of my eyes.  How thankful I am to understand your Word.  I remember when I used to look at it and it just seemed so freaking bizarre.
And now, pure sweetness.
Change me God.  Help me to not only hear your Word, but do what it says.
Pure and undefiled religion in the sight of our God and Father is this: to visit orphans and widows in their distress,and to keep oneself unstained by the world. (James 1:27)
Note:  Sometimes we are called to crazy things.  I let you into my closet to eavesdrop on a conversation I had with the Lord this morning.  I challenge you to write out a prayer today about your Compassion Child or anyone, for that matter.  Share it with someone, because the Bible tells us that,
For where two or three gather in my name, there am I with them. (Matthew 18: 20)
So, if you have a Compassion child, go ahead and write them a letter . . . online.  I think I am going to try that out for the first time.  Maybe I won't have space constraints . . . and I'm sure it will have spell checker.
Bonus – no stamp required.
Will you join me in writing an online letter to your Compassion Child?
Don't have a Compassion Child?  No problem!
Head on over to Compassion and ask God to direct you towards the child He has picked for you.  So far 837 children have been sponsored this month . . . . 2,271 to go to reach the goal of 3,000 child sponsorships for the month of September.