#writetheword Defined
Aug 22, 2012
This post may contain affiliate links. Additionally, remember that I am not a doctor and any health statements must be verified by your doctor. Read my full disclosure policy
here
.
The concept is simple. 
Write the Word.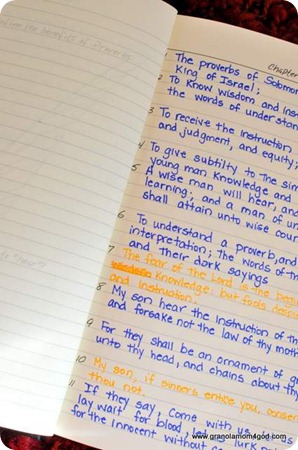 Why Write the Word?
It is biblical.  Do you need more of a reason?
Now it shall come about when he sits on the throne of his kingdom, he shall write for himself a copy of this law on a scroll in the presence of the Levitical priests. It shall be with him and he shall read it all the days of his life, that he may learn to fear the Lord his God, by carefully observing all the words of this law and these statutes, that his heart may not be lifted up above his countrymen and that he may not turn aside from the commandment, to the right or the left, so that he and his sons may continue long in his kingdom in the midst of Israel.
I have a lot of Bibles.  48 to be exact. 
Our house OBVIOUSLY does not need another Bible.   And while I write notes in my Bible, as reminders to myself and a legacy to pass on to my children,  I am grossly negligent in copying the scriptures in front of my children, as Moses instructed the future Kings to do (in order not turn to the left or the right – but to remain focused on God).
I don't have to #writetheword, I am choosing to write the Word.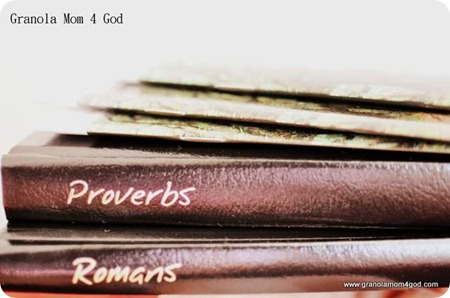 Our pastor regularly reminds us, "So then faith comes by hearing, and hearing by the word of God." (Romans 10: 17)
While I wholeheartedly agree with my husband's bike buddy, sometimes I feel like the Word goes in one ear and out the other.  Can I get a witness?
The Bible tells us in James 1:22,
But prove yourselves doers of the word, and not merely hearers who delude themselves.
How to be a Doer
I am practicing the doing. 
It is easy to be busy with doing.  But I am working on writing a copy of the Word as if I were sitting before the very throne of God.  This scribe stuff?  It is NOT busywork.  It is not a time to double task. 
It doesn't take much to focus on writing the Word.
A bible.  A pen (preferably your favorite one).  And a notebook. 
I started out in Matthew.  But have recently switched to Proverbs due to the graciousness of Reformation Heritage Books. 
Hear me when I say that I am not being paid.  I am earning NOTHING by telling you about my new journal(s). 
I am passionate about
the Word of God

getting YOU into the Word of God

and raising an awareness of

Bible Poverty

.

Just Write
While you don't need a Journible, I must admit that I was way more intentional this morning as my pen crossed every jot and tittle.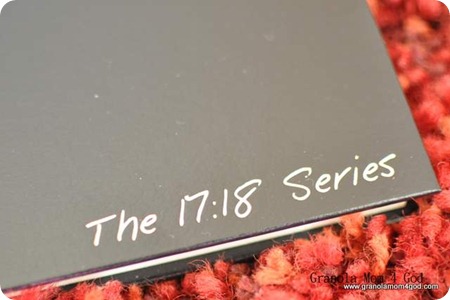 Journibles are set up so that you only write on one side of the page.  At the top of each page you are told what chapter and set of verses are contained on the page.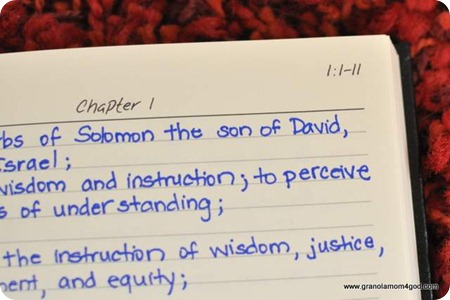 The other side is for notes.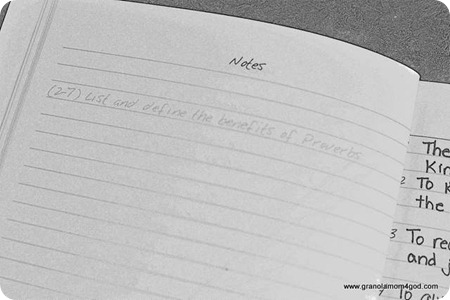 And occasionally, there is a question posed in every so faint gray ink . . . that you can choose to write over . . . or answer.
It has the right amount of space to write.  Enough pages to complete the entire book you are writing, such as Proverbs.  And  Journibles look good on a shelf – not that it should stay on the shelf.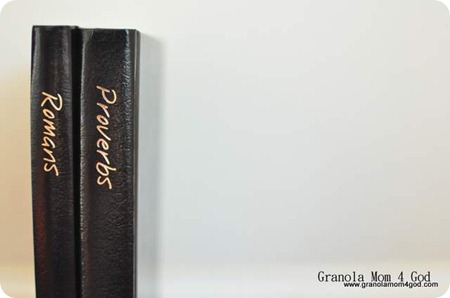 Need More Information?
The Purpose of Writing the Word
It causes me to slow down. 
It makes me ponder what it would be like to be a Bible Translator. 
It reminds me to pray for the One Verse missionaries who are working hard at translating the Bible for the Vidunda people in Tanzania. 
I am inspired to raise awareness about the need for those of us passionate about the Word of God to support Bible translation through monthly (tax deductible — ahem) gifts. 
I am acutely conscious of EVERY. SINGLE. WORD. (Including comma's, possessive nouns,  capitalizations, cities, and lists, to name a few.)
I find myself actually dwelling on the Word.  Which has the potential to lead to great transformation.  Increased faith.  That quiet and gentle spirit I long for.
I love that what I write can be read by my children both now and in the future.  Should the Lord tarry, the simple fact is that I will die.  While I am with the Lord, my children will have a lasting legacy . . . as if I am still reading to them.  And even reading to my grandchildren.  That is sweet.  Lasting.  Eternal.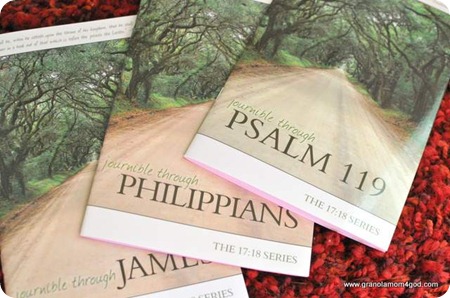 How Can You Become Involved?
There are many ways you can join in. 
The first step is to write the Word of God each day, be it in a

Journible

or a simple notebook.

Join us on

Instagram

and use the hashtag #writetheword and/or #endbiblepoverty

Link up

with

I'll Take Tea

every other week, sharing what you learned by writing the Word.

I want you just to stay tuned . . . because God is growing a very cool thing from this  #writetheword thingy. . . that I hope to share with you soon.
Ask a friend or a group of friends to meet regularly.  Fellowship and write the word together.  Send me a picture if you do — to thegranolamom4god at gmail dot com.
Spread the word.  Tweet about #writetheword.  Blog about #writetheword.  Like this post on Facebook.  Place a link to this post on your Facebook wall  or Twitter stream or Pinterest board.  Whatever you do, help this idea go viral.  There is nothing more important as sharing the Truth found in God's Word.