5 Days with your Vitamix: Spanish Night
Jun 7, 2012
This post may contain affiliate links. Additionally, remember that I am not a doctor and any health statements must be verified by your doctor. Read my full disclosure policy
here
.
For some reason, the Engineer and I like to kill ourselves before having a dinner party.
We typically agonize over the food we will serve several weeks prior to the event, contemplate flavors and palates, go to the grocery story four times . . . with all children in tow, run out to the Farmer's Market the day of, do yard work up until 5 minutes before guests arrive, and clean unusual items — all before setting Pandora up to create that perfect ambiance.
I failed to mention our meal.  We choose a recipe that is laborious.
I love that word.  Say it out loud.  It is therapeutic to say.  I think.
Some might purchase a Spanish Rice box.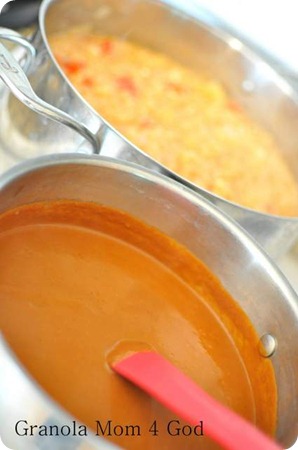 Nope.  Not Jodi.  I had to sprout my rice three days before our guests arrived.  Uh-huh.
Tortillas?  Why buy them when you can just sprout some grain?  And grind it yourself.  Wish there was an app for this.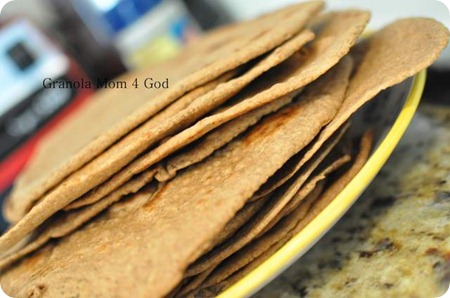 Salsa?  Mole?  Salad dressing?  Most people would purchase jarred.  Sigh.  Not gonna do it.
Thankfully, I have my Vitamix, who surprisingly does not have a name.
I have come to think that my Vitamix creates an illusion for my brain, making it believe that I
The Engineer's has taken up the habit of mocking me when I say, "I'll just whip something up."
He has the gall to laugh at me.  Which I don't appreciate.
I say, "Whatttt!!?"
Instead of an honest reply, I receive the "I feel so sorry for you head nod because you are so far gone into granola-land that you have no idea how most people get their food and we have to wait until our stomach are growling loud enough for the neighbors to hear" head nod.
It's not easy being me.
Just so you know, your Vitamix does Spanish.
And if I was further along in my Rosetta Stone language lessons, why I would write the rest of this in Spanish . . . except I am learning Latin American Spanish as opposed to Spain Spanish.
And I think this is a Spain Spanish meal.  I think.  (Minus the salad dressing.)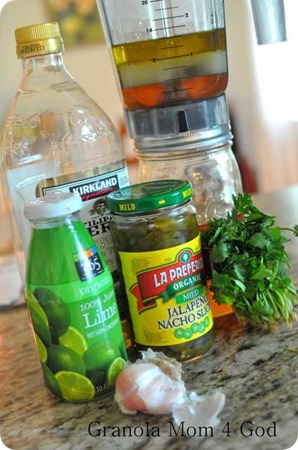 Honey Lime Dressing
1/4 cup fresh lime juice
1/4 cup olive oil
2 tbsp raw honey
2 tbsp fresh cilantro
1 garlic clove, peeled
1 tsp jalapeno pepper (use canned for less heat)
(I doubled this recipe . . . and used organic.)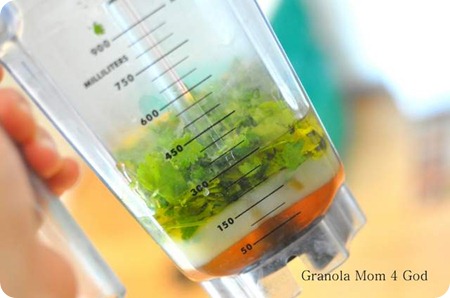 Directions
Place above ingredients in Vitamix wet container.  As you can see, I did not even bother to chop garlic or cilantro.
That is what the Vitamix is for.
With lid securely on, and motor settings initially at lowest speeds, use the Variable dial and slowly turn from 1 to 10.  I pulsed the motor so that I chopped the cilantro and garlic . . . . but avoided blending the salad dressing so much that it became green.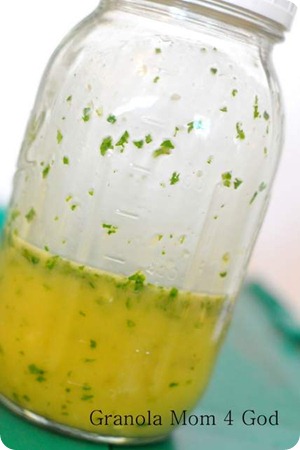 What goes well with this dressing that will take you a lot of time to prepare?
Let me share with you because a meal like this . . . gives you ample time to pray for your guests.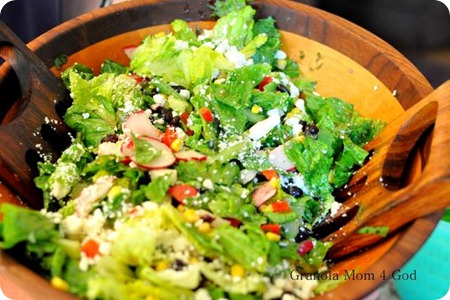 The Salad Fixins to accompany your Honey Lime Dressing
2 1/2 cups chopped Romaine lettuce
1 can black beans, rinsed and drained (darn – I should have done this myself!)
3/4 cup chopped tomato
3/4 cup chopped and pealed jicama
3/4 cup corn kernels (I used a can – gasp!)
3/4 cup avocado, sliced
1 red bell pepper, chopped
1/4 cup crumbled feta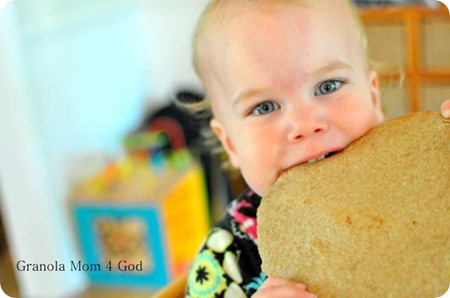 If your daughter gets hungry while you are creating in the kitchen, give her a tortilla – homemade of course.
Mole Poblano De Guajoloto
Translation:  Turkey (or chicken) in Chili-Chocolate Sauce)
Ingredients
1/2 lb palm shortening or coconut oil
6 dried ancho chiles, stemmed
8 dried pasilla chiles, stemmed
6 dried mulato chiles, stemmed
4 plum tomatoes
1/2 cup thickly sliced yellow onion
2 garlic cloves, peeled
1 plantain, peeled and sliced
1/2 cup raisins
1/4 cup plus 2 tablespoons toasted sesame seeds
1/2 cup peanuts
1 1/2 cup tortilla chips (2 ounces)
1/4 cup white wine vinegar
6 ounces extra-bittersweet chocolate, chopped
pinch of ground cloves
1/2 tsp ground coriander
1/2 tsp cinnamon
8 cups chicken stock
8 chicken breasts
salt to taste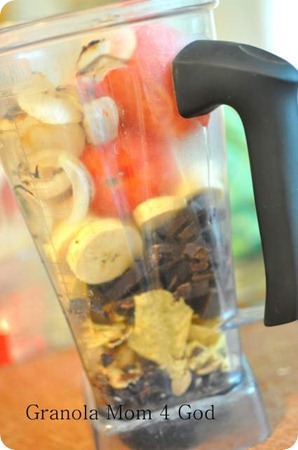 Directions
Heat oil and fry chilies, avoid burning them (if at all possible) so as not to turn them bitter.  Transfer them to a bowl to soak in 4-5 cups boiling water for 1 hour, until softened.
Using the Vitamix, puree the chilies and 1-3 cups of the soaking liquid until smooth.  The sauce should be the consistency of thick heavy cream.  Remove any solids
Preheat broiler.  Broil tomatoes, onion and garlic for 2-3 minutes until browned.  Turn vegetables over and broil another 2-3 minutes.
Using the Vitamix again, combine vegetables, plantain, raisins, 1/4 cup sesame seeds, peanuts, tortilla chips, vinegar, chocolate, cloves, coriander, and cinnamon with 2 cups stock.  Puree until smooth.
Heat more palm shortening in a large saucepan over medium-high heat.  Add chilie and vegetable puree.  Whisk.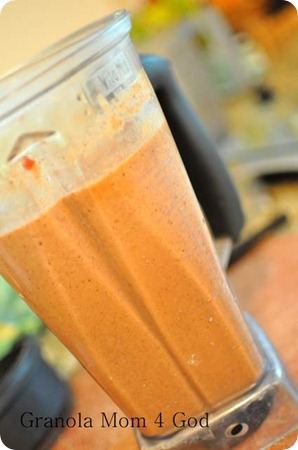 Add 8 cups of chicken stock.
Reduce heat and simmer  uncovered, stirring frequently, for 1 hour or until sauce is thick but pourable.
Remove from heat and allow to sit at room temperature for 1 1/2 hours.
Cover and refrigerate overnight.
Grill chicken or cook chicken in sauce the next day.
Serve on a platter and sprinkle with remaining sesame seeds.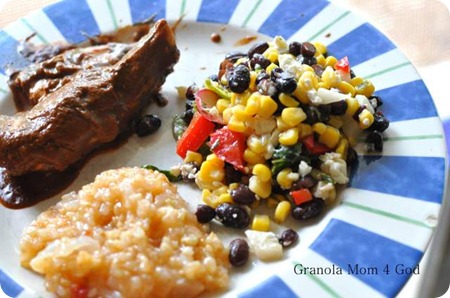 I'll let you find a recipe for homemade Spanish rice . . . AKA Arroz Mexicana.
Missed my other Vitamix posts?
Other posts in this series:
Linking up with 20 other great gals, in celebration of 5 Days of Mothering and Homemaking.