Caveman Cookie: A Fruit and Nut Bar
Jan 31, 2013
This post may contain affiliate links. Additionally, remember that I am not a doctor and any health statements must be verified by your doctor. Read my full disclosure policy
here
.
Dates look like roaches.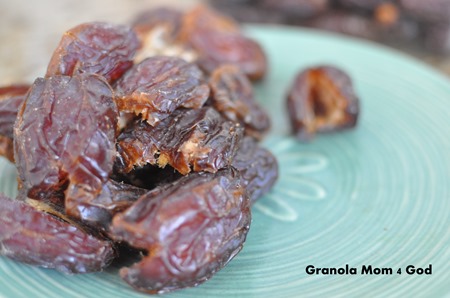 Just admit it. I won't think any less of you. I'm the one who stated it in the first place.
But dates are my sweetener of choice lately.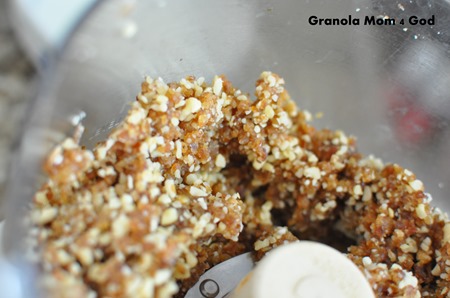 Because dates mixed with a little cocoa and a handful of walnuts make something incredibly stupendous to sink your teeth into.
And yet again I find myself having to practice the art of sharing. Why do I torture myself and make my family food they will like? They just eat it!
The nerve.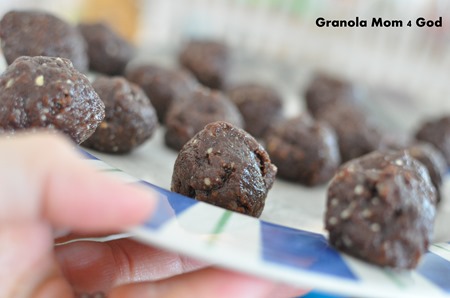 Caveman Cookie (named by The Engineer)
(I want to call them Eve Delights or something sweet like that.)
Ingredients
1 cup soaked and dehydrated walnuts (but you can cheat and use normal store bought walnuts – not that I have done that in a moment of desperate panic pinch)
2 Tbsp Dutch-pressed organic cocoa (I have this on Amazon auto ship . . . yup – no joking here about my cocoa)
approximately 16 dates (seeded)
1/4 cup coconut oil (I purchase this in 5 gallon tubs and split it with my friend, Kathleen)
Directions
Place all of the ingredients in a food processor and pulverize. Grind those walnuts to smithereens.
Roll into a ball.
If you are feeling sassy, coat the Caveman Cookie with shredded coconut (not to be confused with coconut flakes which can get caught in-between your teeth) and refrigerate until moderately solid. (And I also purchase my shredded coconut in large quantities because I have been known to make my own coconut milk.)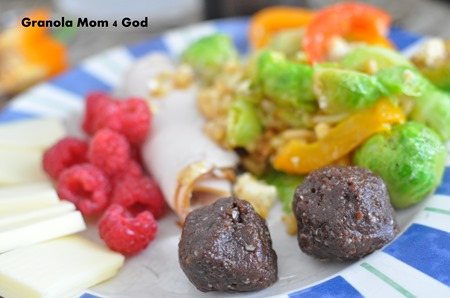 Ration Caveman Cookies and commit to eating two at a time. Consider serving with a healthy and colorful meal.
(The Brussel sprouts in the background are BEGGING you to make them and want you to know that they can be found on my blog.)