Five Days with your Vitamix: Smoothies
Jun 5, 2012
This post may contain affiliate links. Additionally, remember that I am not a doctor and any health statements must be verified by your doctor. Read my full disclosure policy
here
.
The Vitamix was a gift given for a single outcome:  grinding grain to produce flour.
But the little lady has become so much more.  I would wager she is used at least twice a day to make smoothies.
However, contrary to what you might think about this granola lady, I do not often make super-green smoothies.  I will throw in a carrot or two, maybe a scoop of some Antioxidant Omega-3 Greens, and most definitely a spoon of coconut oil.  But not many raw vegetables.
There are a couple of reasons, the largest one being taste, followed by color, and then an article I read by the Healthy Home Economist where she stated that a "regular" consumption of super green smoothies can actually do more harm than good.
Quite honestly, the two recipes that I am about to give you, though organic, are not good for your health on a regular basis.  I would call these dessert smoothies.  And a fun drink that is easy to whip up should some friends unexpectedly drop in.
Today's Vitamx recipes include:
Mango Dream Smoothie
Better Than a Frappe Coffee Smoothie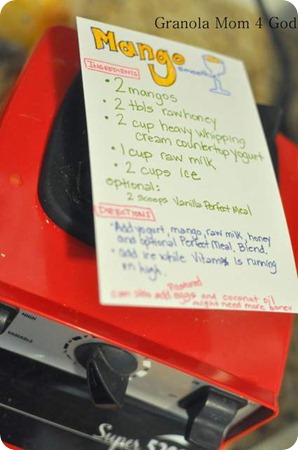 For starters, you are going to need a mango.  I had never eaten a mango until I lived in India.  And the mangos there . . . . A.M.A.Z.I.N.G.  We would make a hole and literally just suck the fruit out, like a drink.
But if  you haven't noticed, I don't live in India anymore.  My mangos come from Mexico.
How to cut a mango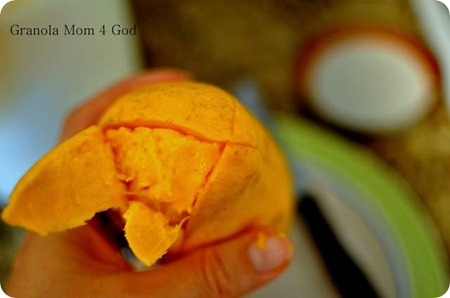 Take a serrated knife and slice through the skin, making a complete circle around the mango.  Repeat with a similar incision that is perpendicular to your initial cut.  Do not sink your knife into the mango fruit.
Where the corners meet, peel back the skin of the mango as shown above – like a banana.
Once skin has been removed (and placed in the compost bucket), slice off the flesh of the fruit.  Discard the mango pit (it cannot be composted).
Mango Dream Smoothie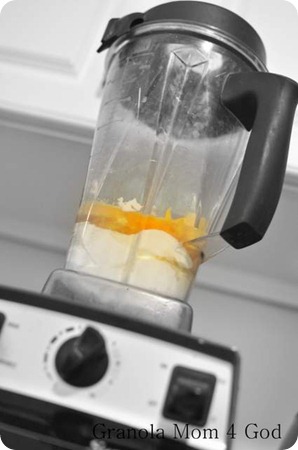 Ingredients
2 ripe mangos
2 tbls raw honey
2 cups  countertop yogurt made with heavy whipping cream (important for taste) I buy mine at Costco.
1 cup raw milk
2 cups ice
Optional:  2 scoops Vanilla Perfect Meal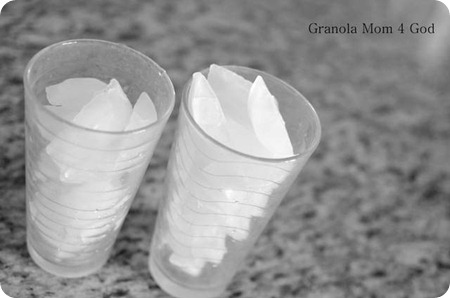 Directions
Add all ingredients EXCEPT ice to Vitamix Wet container.  (Dial Vitamix to 10 and then flip to High – making sure to have the lid on securely  before turning machine on.)
Add ice WHILE Vitamix is running on high.  Blend until all ice has been crushed and smoothie is thick and creamy (but still cold!)
(serves 4)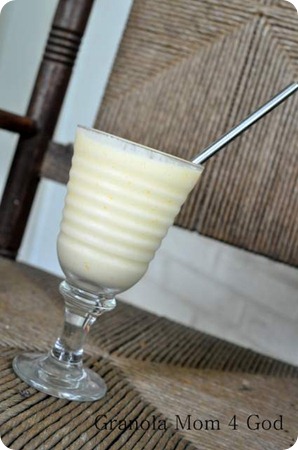 This is a FILLING smoothie, mainly due to the yogurt.  By using the heavy whipping cream to make  your yogurt, you are adding calories (hence this being a dessert smoothie or a meal in itself.)  The full fat yogurt really adds to the flavor of this smoothie, though.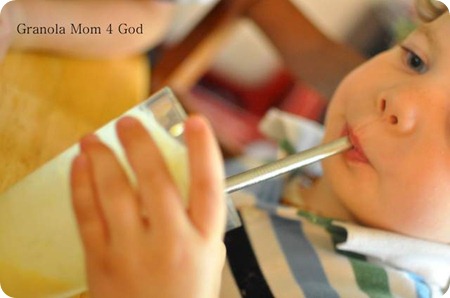 If you ever have leftover smoothie, place the remaining mixture in a popsicle mold.  Asher was gone when I made our Mango Smoothie, so now I will have some to share with him when he returns.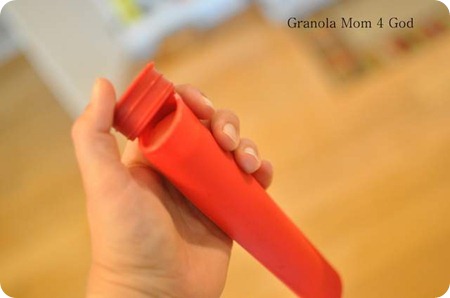 Better Than a Frappe Coffee Smoothie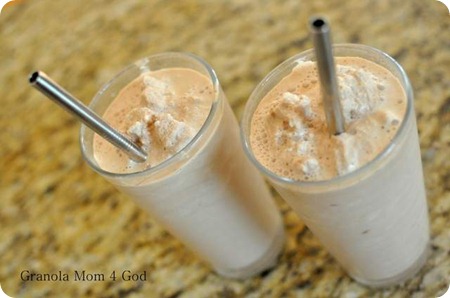 If you have read me long enough, you know that the one non-granola habit that I desperately struggle with is my enjoyment of Starbucks coffee.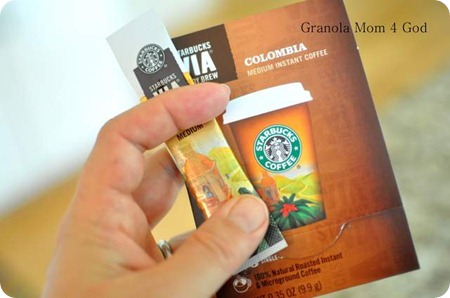 The Engineer and I have played around with using coffee beans and allowing the Vitamix to crush them, grinding the beans before placing them in the smoothie, and brewing espresso to produce a coffee smoothie.
But none have them have worked as well as the Starbucks Via Ready Brew directly dumped into the smoothie.  No brewing required.  (I snag my Via at Costco.)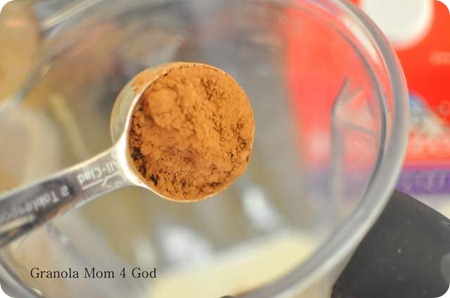 Ingredients
1 cup countertop yogurt made with heavy whipping cream
1 cup organic Half-n-Half (another Costco purchase)
2 cups ice
2 tbls Dutch-Pressed Cocoa
2 tbls local, raw honey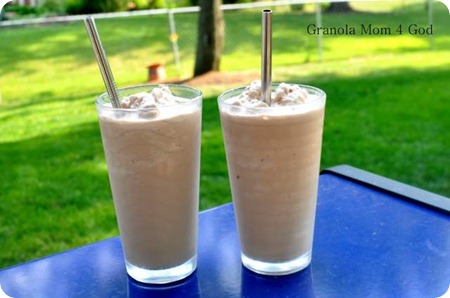 Directions
Place all ingredients in the Vitamix Wet container, MINUS the ice.  Attach lid.
Turn the machine on, dialing machine to 10, and then flipping switch to high.  Add ice while machine is running.  If a vortex is not formed, you can use your tamper to aide in mixing ingredients.
Blend until smooth.
(Serves 2)
Other posts in this series:  Sprouting wheat berries and grinding grain
Linking up with 20 other great gals, in celebration of 5 Days of Mothering and Homemaking.